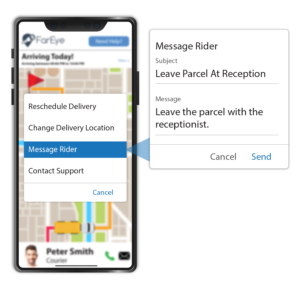 Logistics software developer FarEye has launched its delivery experience suite Delight, which aims to help businesses increase their delivery happiness score.
According to FarEye, 66% of shoppers buy goods from one retailer in preference to another because of a more appealing delivery service. It is therefore imperative for retailers to consider live tracking, personalization and customization of the delivery service where possible.
FarEye Delight is already in use by companies such as Blue Dart, Amway, Future Group, Zalora and Noon, who use the suite to provide the following features:
Uberized tracking and real-time feedback
Customers receive a tracking link along with the estimated time of delivery offering them a real-time view of the courier. Once delivery is done, they receive a link for sharing instant feedback.
Connect and deliver
Using the live tracking link of their parcel, customers can call or send text messages to the courier about preferred delivery requirements – for instance, leaving the parcel at the reception, dropping parcel with the neighbors, that the doorbell is not working, or any reason that is making the delivery stressful.
Customized delivery location and time
Customers receive a message with the estimated time of arrival of their parcel, which also carries a link for rescheduling. With just a few clicks, customers can change the date, time and place of delivery.
Seamless brand experience
Consistent brand logo on all the touchpoints with the customer, irrespective of the multiple partners involved in the parcel delivery cycle.
Commenting on the launch, FarEye CEO and co-founder Kushal Nahata said, "The delivery happiness score is a metric to measure the overall effectiveness of your deliveries. While more and more companies understand that providing a great customer experience is necessary for business growth, many have a long way to go, bringing all the parts together to make it a reality.
"The bottom line is that companies struggle to get a cohesive, holistic, outside-in view of their customers' experience and that is where FarEye Delight bridges the gap."