Parcel+Post Expo – the leading global event for the world's parcel delivery, e-commerce logistics and postal industries – arrived this week in Frankfurt, Germany, with the biggest show in its 25-year history.
Combining an international exhibition showcasing the latest, most innovative technologies, with a live conference featuring expert industry analysis and opinion, alongside a multitude of exclusive networking opportunities, Parcel+Post Expo celebrated its grand 25th anniversary in style. With over 200 exhibitors, the three-day event was packed with major technology suppliers as well as startups, disruptors and young innovators pushing the boundaries of the industry with technological innovations and expert insights.
With a multitude of key delivery experts and professionals in attendance, the event provided an unrivaled opportunity to conduct business and network with industry peers. As Shash Anand, senior vice president of product strategy at SOTI, said, "We're really enjoying the diversity of people we're coming across, like IT managers, operations, logistics, from a wide variety of different regions as well. We're really excited to showcase our unique technology to the people here and show them how their operations can be improved."
 "Feedback at the expo has been wonderful," Mohamed Reza, vice president, Shipsy, added, "We've been getting to meet a lot of logistics companies and postal companies, and the initial reaction is that they are very interested in seeing how all of their processes could be handled in one platform rather than their IT teams having to work with 10 different software solutions. We have made a lot of strong connections throughout the show: we've already set up meetings next week with clients we've met on the show floor, so we're really happy."
Niall O'Neill, CEO of MyDutyCollect, said, "The expo has been amazing, we've had so many meetings back-to-back and there has been a lot of interest. We've been able to connect with many partners and it has really boosted our profile. The amount of passing traffic as well as scheduled meetings has made it very beneficial to boost the brand. It's also been really nice to close some deals here – deals that have some really massive potential. It is nice to be back."
David Jefferies, marketing director – Europe, Bluecrest, said, "We're one of the longest-serving supporters of the show, and have been coming for many, many years. We're bringing different solutions from before as it's now all about parcels and we've got a whole range of sorting solutions for the parcel industry. So far, we've seen a very international set of visitors, which is why we come. Once again, we're seeing good people, high-quality visitors from many different parts of the globe, and that's what this show is valuable for."
This year's Parcel+Post Expo also hosted the UPU World Leaders Forum and its return to its in-person format for the first time since 2019. This interactive, one-day event brought together top postal executives and industry experts from around the world and developed groundbreaking thought leadership from the brightest minds in the sector on the most pressing topics for the industry as it emerges from the Covid-19 pandemic.
Parcel and Postal Technology International Awards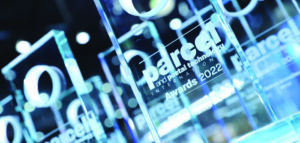 The winners of this year's Parcel and Postal Technology International Awards were also announced during a live evening awards ceremony at the show. The ceremony, held on Tuesday, October 18, revealed who triumphed in each of the eight award categories. The prestigious Parcel and Postal Technology International Awards, now in their 14th year, reward the latest achievements and developments in the postal sector across a wide range of specialisms, including 'Service Provider of the Year', 'Supplier of the Year', 'Business Diversification of the Year', and more.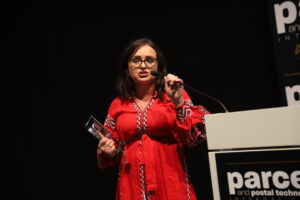 This year's top prize of Service Provider of the Year was collected by an emotional Julia Pavlenko, director of international, operations department at Ukrposhta, who delivered an impassioned speech praising her colleagues on the dedication shown working under the most extreme circumstances. For more than seven months, Ukrposhta has been working in war conditions every day. On the second day of the invasion, Ukrposhta reopened its post offices all over the war-torn country. Within a week, export to all destinations was resumed, despite the suspension of flights from Ukraine.
Sew-Eurodrive won the 'Last-Mile Delivery Innovation of the Year' award for its innovative delivery robots that were developed for use in and around warehousing and sorting facilities, as well as for the last mile in urban logistics.
The 'Transport Innovation of the Year' award was won by PostNord for its automated truck fill-rate measurement tool. PostNord's cost-leadership program looked to create a more valid and automated way of capturing fill rate in its line-haul network than the traditional manual processes.
DPD NL won the 'Sorting and Fulfillment Technology of the Year' award for its Parcel Intelligence software, which was developed in collaboration with Countercheck. With 99.9% accuracy from its machine learning technology, DPD NL began utilizing machine learning to protect its employees and society, aiming to replicate airport-level security. DPD NL created special processing flows for parcels containing illicit goods as well as those with hazardous labels such as LQ and ADR. Pilots began in September 2021, with the final solution activated in January 2022. Since its activation, Parcel Intelligence has intercepted illicit items with a combined street value of €5m (US$4.9m), including drugs, guns, ammunition, fireworks, explosives and counterfeit products.
New products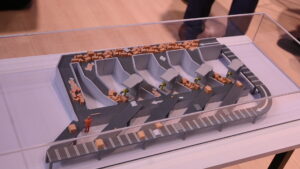 After launching its PACE Digital Suite data solution on the first morning of Parcel+Post Expo 2022, Vanderlande released a second product at the event. Developed in collaboration with machine builder and robotics company AWL, Auto Induct is a robot picking solution. It is designed to pick items weighing between 20g and 5kg and place them on a belt for further sortation during the singulation process. Auto Induct is configured for parcel companies that have a dedicated line for smalls. Results from Vanderlande's tests show that the robot can pick up to 1,500 items per hour. Auto Induct has been designed to ensure each parcel goes through the singulation and sortation process in the most effective and accurate way possible.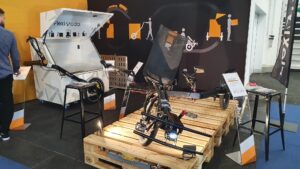 Alongside this, FlexiModal revealed its new trike for the first time at Parcel+Post Expo 2022, held at Messe Frankfurt in Germany. TricyLift, the urban e-cargo trike, can lift and carry up to 200kg and any standard-sized (80 x 120cm) container due to its 'lift&go' lever mechanism. This is a seat and integrated lifting mechanism which has been created specifically for urban logistics. When not in use, the TricyLift can be split into two parts for compact storage. The backrest offers an ergonomic position and the 250W electric assistance complies with the European norm for e-bikes. The TricyLift's design enables it to tackle urban obstacles and make a U-turn with a 2.5m turning radius. Overall, the trike has been designed as an agile and low-maintenance vehicle, ensuring efficient delivery of all types of goods in city centers.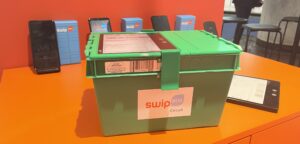 SwipBox launched its intelligent labeling solution, SwipBox Circuit, at the expo. The technology enables webshops and logistics providers to use strong packaging materials up to 1,000 times. To use the circular solution, the consumer simply removes the content from the package and leaves the packaging for the courier to return, eliminating the waste normally associated with parcels. Compared with disposable cardboard packaging, which has an average lifetime of 24 hours, the sustainable benefits of the Circuit solution become clear. According to the company, it will help customers meet the forthcoming legal requirements contained in Directive 94/62/EC on packaging and packaging waste.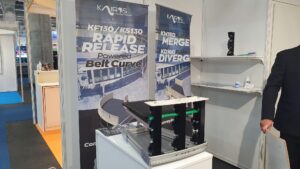 Meanwhile, Kairos Conveyor introduced its powered belt curve conveyor, the KF/KS130 Rapid Release Powered Belt Curve Conveyor. The solution features an outer frame of vertical pillars and a rapid-release guidance system that ensures rapid belt, pulley and bearing replacement. It is also intended to facilitate the economic fabrication of spiral curves. The KF/KS130 Rapid Release Powered Belt Curve Conveyor has been designed to be the optimum curve conveyor in terms of geometry, material selection, cost of manufacturing, ease of assembly, rapid part change and full accessibility for maintenance purposes.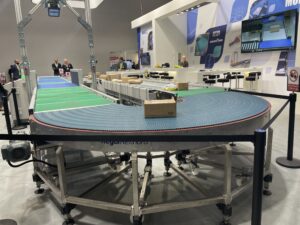 Regal Rexnord's modular side-flexing package handling system, the Rexnord 1540 Series Zero Tangent MatTop Chain, also made its show debut at Parcel+Post Expo 2022. This side-flexing modular plastic technology was designed to match the needs of containers with shifting centers of gravity in constantly thinning packaging material. The system uses multiple tracks of 15mm-pitch modular plastic belting to ensure the package rotates without change in orientation, to improve the ease of use for small and large packages. The same angular speed of the chain obviates the need for transfer plates to transfer packages of all sizes when exiting the curve.
Parcel+Post Expo Conference
The 2022 Parcel+Post Expo Conference featured a unique combination of in-person and virtual conference sessions, workshops and panel debates. Featuring over 180 speakers known for their industry knowledge and disruptive thinking, these specialist sessions analyzed the most pressing issues and trends set to dominate parcel and postal delivery, including e-commerce ecosystem tools and solutions, game-changing emerging technologies and the future of parcels. In particular, the 2022 conference looked at how the parcel and postal industry is best positioned to meet challenges since the rise in e-commerce throughout the Covid-19 pandemic – as well the ideas, technological innovations and strategies needed to win the race for the last mile. Presenters included: Mart Mägi, chairman of the board at Omniva; Dr Anirudha Bansod, CEO of Post Fiji; Bernhard Bukovc, chairman of Postal Innovation Platform; Dr Fadi Albuhairan, deputy CEO of Saudi Post; and Brody Buhler, CEO of Escher.
Visitor quotes
Janne Remesaho, logistic technologies manager at Posti, said, "I'm here to meet the exhibitors mainly. Of course, I had some contacts that I wanted to visit anyway but I'm also making some valuable new contacts. There are some new relevant parcel technologies here too which I'm quite excited about."
"This is my first time back to the expo since before Covid and I'm happy to be here," added Krzysztof Górski, director of Poczta Polska. "I have met with a lot of operators from the whole of Europe and the rest of the world, and it is a great place to make new connections and meet with old friends."
Xavier Nissen, business development representative for Intimus International Belgium, commented, "I've come to the expo today to see the general developments being made in the postal sector and I think there have been lots of useful innovations and technologies on show. I've made lots of good connections and had some interesting business meetings, and I hope to be back next year."
Slawomir Urbaniak, project manager at Poczta Polska, said, "This is my first time at the event and I think there are two positive elements – the exhibition where we can see all of the technical innovations and meet the companies behind them, which I have very much enjoyed, and the personal connections we can make. This is very important because we have a chance to talk about the work of our post and how to solve the problems in the industry. It is a great place to make or renew connections."
Kari Tuomola, senior asset manager at Posti Group Oyj, commented, "I've only been here two hours and I'm already amazed at the variety of things. It's nice to see people visiting fairs again in the post-pandemic era. Certainly, I'm having a great time here."
Rohan Mathur, managing director of Emerdis, said, "We are a system integration and reselling company. I'm here to visit the suppliers and watch the new technologies, etc. This is for our existing partners, but we're open to new opportunities as well. For us, it's important to see the new and latest technologies, some of which you might not see if you're not here. It's easy to see the videos and brochures of new tech, but the touch and feel adds a whole new level altogether. I've been coming to Parcel+Post Expo since 2009 and this event is great because you see the industry transformation, from mailing to parcel automation to parcel lockers to robotics: it's really unique."
Erich Steinbuchel, software developer at Belter, explained, "We're from a startup in the Netherlands and at the moment we don't have anything to display but we're hoping that next year we might be back as an exhibitor. Our solution is a software platform for last-mile delivery, and we're looking at a possible combination with hardware although we're not sure yet if we're going to get into the hardware market, so we're speaking with lots of parcel locker suppliers to see and that's one of the reasons why we're here. It's a great place to make possible partnerships and meet integration specialists, but also figure out the standards in the market and assess who are the big players that dominate the APIs."
Exhibitor quotes
Shash Anand, senior vice president of product strategy at SOTI, said, "We're really enjoying the diversity of people we're coming across, like IT managers, operations, logistics, from a wide variety of different regions as well. We're really excited to showcase our unique technology to the people here and show them how their operations can be improved."
"Feedback at the expo has been wonderful," Mohamed Reza, vice president, Shipsy, added, "We've been getting to meet a lot of logistics companies and postal companies, and the initial reaction is that they are very interested in seeing how all of their processes could be handled in one platform rather than their IT teams having to work with 10 different software solutions. We have made a lot of strong connections throughout the show: we've already set up meetings next week with clients we've met on the show floor, so we're really happy."
Niall O'Neill, CEO of MyDutyCollect, said, "The expo has been amazing, we've had so many meetings back-to-back and there has been a lot of interest. We've been able to connect with many partners and it has really boosted our profile. The amount of passing traffic as well as scheduled meetings has made it very beneficial to boost the brand. It's also been really nice to close some deals here – deals that have some really massive potential. It is nice to be back."
Jonathan Kruisselbrink, sales and marketing director, MHS International, explained, "Parcel+PostExpo is the ideal exhibition where you can meet the right people in one shot. We have the opportunity to discuss with our established customers and future possible clients, at the same time have a talk with our suppliers and see what our competitors are focusing on in the market. [Day 1] turned out to be a good opportunity for us, with the closure of an important deal. Absolutely a good start to the exhibition."
David Jefferies, marketing director – Europe, Bluecrest, commented, "We're one of the longest-serving supporters of the show, and have been coming for many, many years. We're bringing different solutions from before as it's now all about parcels and we've got a whole range of sorting solutions for the parcel industry. So far, we've seen a very international set of visitors, which is why we come. Once again, we're seeing good people, high-quality visitors from many different parts of the globe, and that's what this show is valuable for."
Francoise Engberg, head of marketing and communications, K.Hartwall, summed it up, "We've seen a lot of international visitors, people from Morocco, France, Germany, the Netherlands and Turkey, so that's been good. We like to speak with the big postal services, but we like that the event usually gives us the opportunity to speak with posts from further away, such as Australia Post or those coming from the USA. And not just posts but couriers as well. This fair is the one where we have been able to meet these kinds of companies."