The unprecedented growth in global e-commerce over the past year and the resulting uptick in consumer deliveries bring challenges – one of them being environmental impact. The need for electrification of last-mile and long-distance sustainable deliveries has resulted in a boom in the arrival of electric commercial vehicles, all ready to swallow up a piece of the logistics market. 
With an increasing focus on the environmental impact of e-commerce deliveries, General Motors (GM) has entered the logistics sector, employing its electrification, mobility and telematics expertise. The company estimates that the combined market for parcel and food delivery and reverse logistics in the USA will be over US$850bn by 2025, and points to the World Economic Forum's research stating that demand for urban last-mile delivery is expected to grow by 78% by 2030. A 36% increase in delivery vehicles is expected, alongside a rise of almost one third in delivery-related carbon emissions. A shift to less damaging environmental delivery methods is essential. 
GM's BrightDrop is a new ecosystem of electric first-to-last-mile products, software and services designed to support sustainability, as well as help businesses reduce costs, improve employee safety and freight security, and maximize productivity. Consisting of an electric pallet (the EP1) and an EV600 zero-emission light commercial vehicle, GM's integrated system also encompasses software and associated services. 
"With BrightDrop, we're bringing a new set of products and services to a new set of customers, in a new industry," says Travis Katz, BrightDrop president and CEO. "GM has created BrightDrop as a new business completely focused on solving challenges relating to the delivery of goods and services. Global e-commerce continues to grow at an unprecedented rate and consumers are wanting their packages faster than ever. The more we learned about the demand, and the many challenges delivery companies are facing today, the more opportunity we saw to use our expertise in electrification, fleet management and software to help businesses move goods and services in a more efficient, sustainable and safe manner." 
Initially launching in the USA and Canada, BrightDrop will also help customers with the installation of charging infrastructure, along with the upgrading and retrofitting of current fleets to work with the system. A new dealer network will handle vehicle sales and service. Aimed at fast-growing regional as well as large-scale logistics companies, BrightDrop introduces GM's new Ultium EV platform, batteries and technology to the commercial vehicle segment for the first time. Purpose-built for the delivery of goods over longer ranges, the EV600 is targeted to have an estimated electric range of 402km on a full charge. Rapid 120kW fast charging is supported, with a peak charge rate of up to 273km of range per hour. Over 17m3 of cargo space is available, with a gross vehicle weight of less than 4.5 metric tons. Equipped with advanced safety systems similar to those seen on modern passenger cars, standard-fit practical features include an HD rearview camera. Other useful systems such as reverse automatic braking will be optional.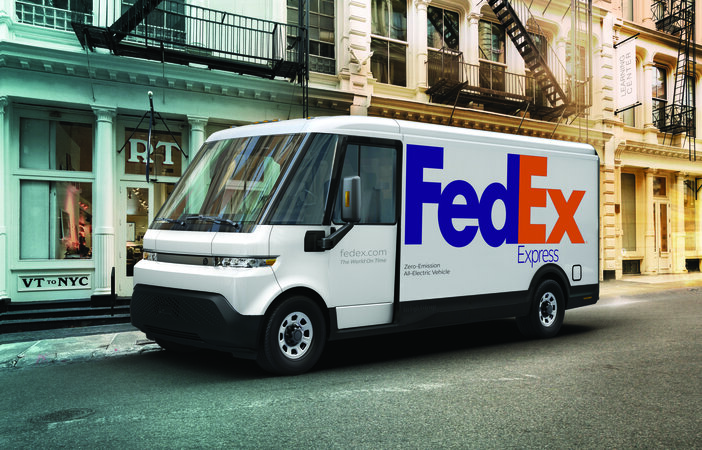 Cost savings
Besides the obvious benefit of cleaner streets, other enticements include cost savings. "The BrightDrop EV600 is an electric vehicle, and a number of cost savings come with electric vehicles," says Katz. "The cost to fuel a plug-in electric vehicle is substantially lower than the cost of gasoline or diesel. Maintenance costs for electric vehicles are also lower, as you do not need to pay for traditional tasks such as oil changes. We estimate that a BrightDrop EV600 customer will have a US$7,000 annual operating cost saving compared with a diesel alternative."
Efficiencies will also be seen in the delivery process. The EP1 is a propulsion-assisted electric pallet developed to move goods over short distances. Powered by in-hub electric motors, it reduces physical strain on couriers and offers cost savings as well. 
"The EP1 was designed to reduce package touches, increase delivery volume and optimize a delivery person's time by reducing the sorting/merchandising work they have to do," Katz explains. "It creates overall efficiencies throughout the delivery process that can lower operational costs over time."  With
a payload of 91kg, the pallet carries 0.65m3 of cargo. Its lockable doors enable secure and remote access.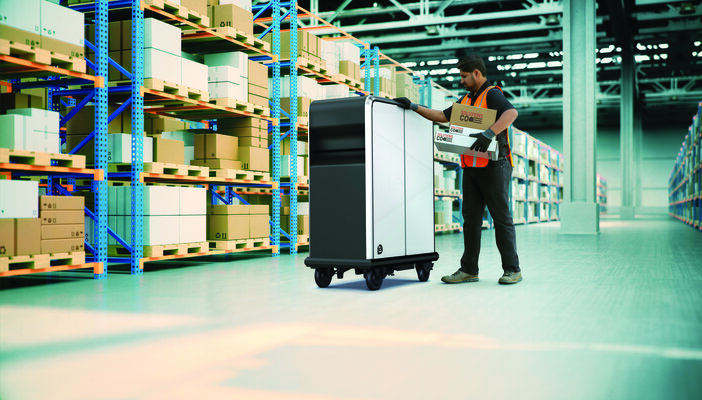 Streamlining benefits
Katz believes that the solutions around the EP1 and EV600 should offer streamlining benefits. "Our software solutions also help to create efficiencies, such as the ability to remotely unlock, which normally would be an added cost for most businesses," he adds. 
BrightDrop's associated services revolve around an integrated, cloud-based software platform. Customers are provided with access to its products through web and mobile interfaces, and delivery drivers can also use the mobile application for a variety of tasks. Detailed data targets the improvement of overall delivery operations, including route efficiency. Connectivity to the EP1 pallet updates customers in real time about their parcel's whereabouts, and data sharing between the EV600 and the cloud allows battery and charging management and location data to be provided to fleet operators. In addition, driver safety, incident recording, predictive maintenance insights and remote access functions are supported.
As for the future, BrightDrop is just at the start of its journey. "The EP1 and EV600 are only the beginning for BrightDrop," Katz confirms. "We will continue to grow our product offerings over time to include a portfolio of integrated, zero-emission products to help drive further efficiencies and address emerging customer needs. We are exploring a number of ideas, such as a medium-distance solution that transports multiple EP1s, and a rapid load delivery vehicle concept."
This article was originally published in the April 2021 issue of Parcel and Postal Technology International.