* Sponsored content
In today's post-pandemic era, where e-commerce thrives and environmental consciousness takes center stage, companies are under increasing scrutiny for their sustainability efforts. Governments and major corporations worldwide are committing to more aggressive carbon reduction plans, with electric vehicles emerging as a pivotal first step in curbing emissions.
There is a substantial impact on emission from transitioning light-duty vehicles to electric. As seen from a recent report from the USA Environmental Protection Agency (EPA), transportation – encompassing automobiles, trucks, aircraft and rail – accounted for a staggering 29% of total greenhouse gas emissions in the USA in 2021. Of this, light-duty vehicles were responsible for a significant 58% of carbon emissions.
In addition, the surge in online shopping with home delivery, particularly in densely populated cities, has presented a substantial challenge for logistics providers. Notably, the last mile of the delivery process constitutes a hefty 53% of the total logistics cost. The pressure to enhance efficiency while minimizing costs is palpable.
Rapid solutions
To tackle these challenges, companies like Gaius in Taiwan have introduced electric vehicles such as Rapide 3 and Rapide Lite, to help customers meet the demands of a burgeoning e-commerce landscape.
The Rapide 3, with its patented 35° tilting system, 200kg of load capacity and a top speed of 85km/h, addresses the unique requirements of commercial vehicles used in logistics and delivery services. It enables the vehicle to navigate turns and obstacles at high speeds when fully loaded, thereby ensuring an additional layer of safety for logistics and high delivery efficiency.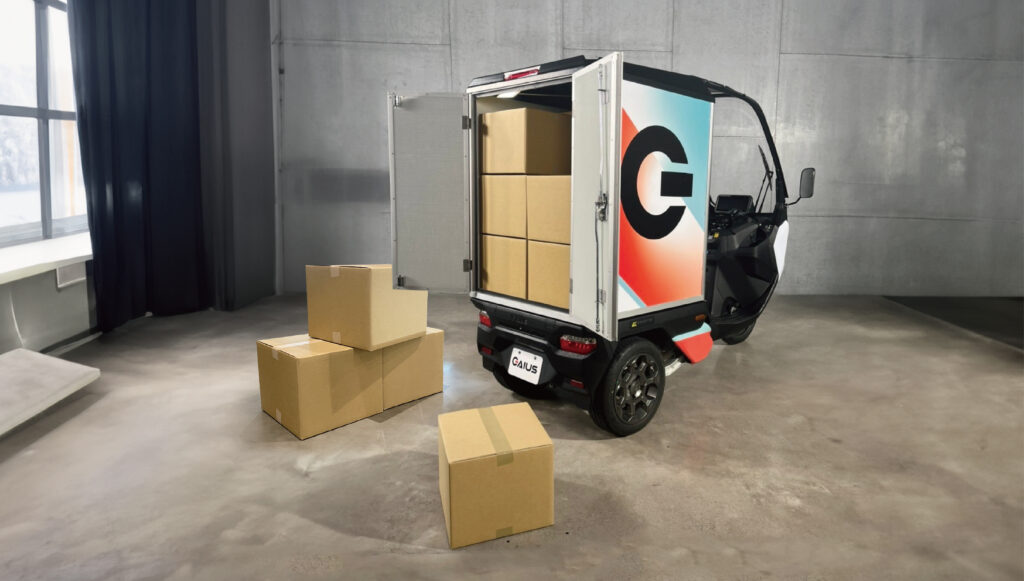 Leading enterprises like DHL Taiwan, FedEx Taiwan, Carrefour Taiwan and Momo, Taiwan's e-commerce leader, have already integrated the Rapide 3 to optimize their last-mile deliveries. The results are nothing short of remarkable. With its capacious 1000L cargo box, the Rapide 3 outperforms traditional two-wheeled motorcycles by delivering four times the cargo capacity. This not only translates to a 14% reduction in round-trip distance to the warehouse but also saves an impressive 35kg of CO2  monthly.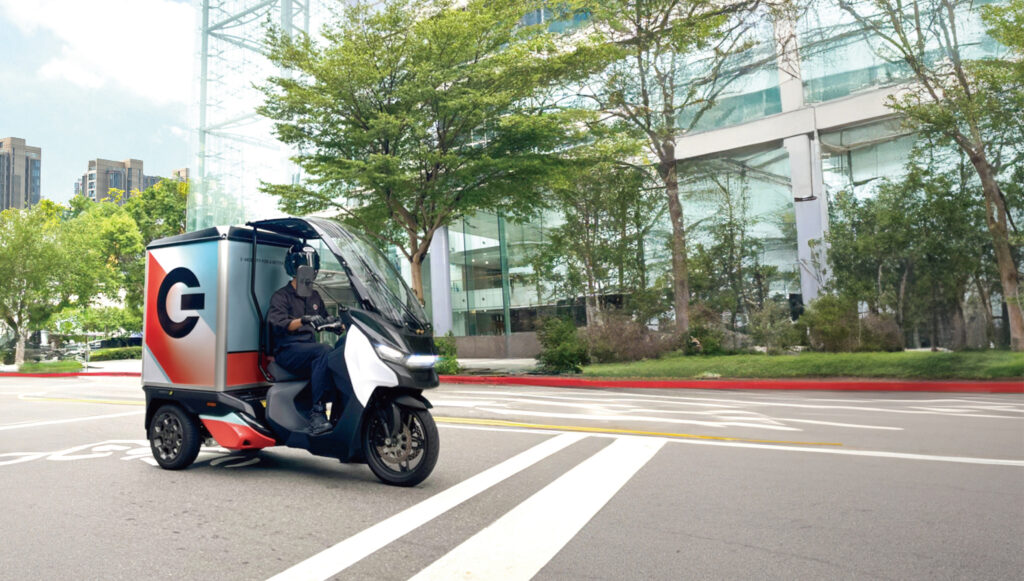 With European cities stepping up their carbon reduction plans, more and more logistics companies are adopting electric cargo bikes for last-mile deliveries in densely populated urban areas where congestion and air quality concerns are more significant. According to City Changer Cargo Bike (CCCB), a single cargo bike replacing a diesel transporter can save five tons of carbon emissions per year, making them an effective tool for achieving the EU goal of CO2-free city logistics by 2030.
Lighter touch
Rapide Lite is introduced as another option for deliveries in no-car zones and pedestrian-friendly areas. This electric cargo bike features a modular design that allows for easy customization of the front compartment to accommodate logistics containers of different sizes. Customers also have the option to choose between a pickup bed or a cargo box at the back, with a payload capacity of up to 200kg. Additionally, the bike's motor system intelligently detects riding conditions and pedal force, automatically shifting gears for a smooth and effortless riding experience. With its high torque capability, the Rapide Lite maintains excellent power performance even when carrying heavy loads or navigating rough terrain, ensuring an enjoyable journey for riders.
Gaius believes that electrifying logistics vehicles is the way to immediately improve the quality of life in cities. By supporting fleet customers in achieving both business success and sustainability goals, Gaius paves the way for a greener, more efficient future in last-mile logistics.
Rapide 3 and Rapide Lite will be showcased at the Gaius booth (12.506) at Parcel+Post Expo 2023, taking place in Amsterdam on October 24-26, 2023.
To register for the event, click here.