The winners of this year's Parcel and Postal Technology International Awards have been announced during a live evening awards ceremony at Parcel+Post Expo in Amsterdam, the Netherlands. The ceremony, held on Tuesday, October 24, revealed who triumphed in each of the eight award categories.
Service Provider of the Year: Omniva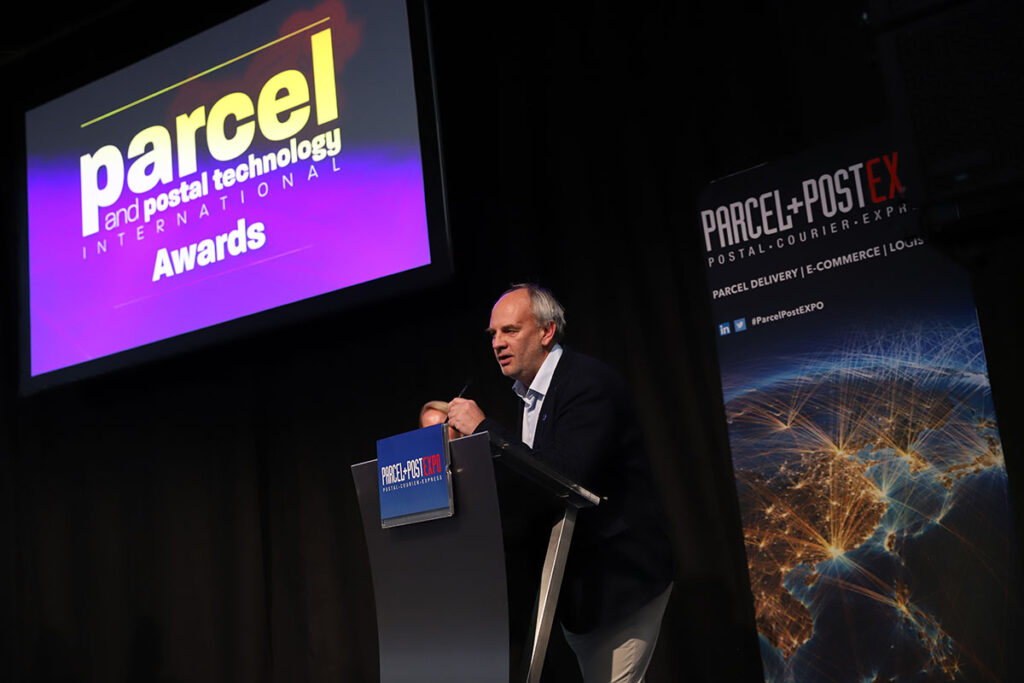 Recognized as one of the fastest-growing and most valued brands across the Baltics, Omniva launched a series of initiatives to modernize and streamline its services, resulting in a notable improvement in customer satisfaction levels. This included the upgrade of its private customer platform, My Omniva, with a more intuitive interface that enables users to track and trace shipments with a single click.
On collecting the award, Martti Kuldma, chief technology officer at Omniva, shared a few words about innovation, "Innovation is very much like playing in a casino. You have to make bets you cannot win. It's the same as innovation. You have to be curious. You have to experiment. You have to develop services and maybe then you'll win the grand prize. Thank you."
Omniva also launched a mobile parcel machine that not only provides additional touchpoints during peak seasons, but also enables Omniva to conduct feasibility tests for potential locker locations.
Furthermore, Omniva has taken action to streamline its operations by reducing the number of traditional postal offices in Estonia from 90 to 60, embracing a modern and environmentally friendly concept that seamlessly integrates e-commerce and postal services.
To achieve its goal of using 100% sustainable energy across all activities by 2030, Omniva equipped its parcel machine roofs with solar panels and incorporated renewable energy solutions into its new logistic center currently being built in Kaunas, Lithuania.
Also shortlisted:
Correos Spain – Supporting rural development initiative
Cainiao Group – DHL Group partnership to launch largest out-of-home (OOH) delivery network in Poland
Qatar Post – Digital transformation and FIFA World Cup Qatar 2022 initiatives
bpost – Launch of free sustainable sending service
Kazpost – Diversification of the product line
Supplier of the Year: Modern Expo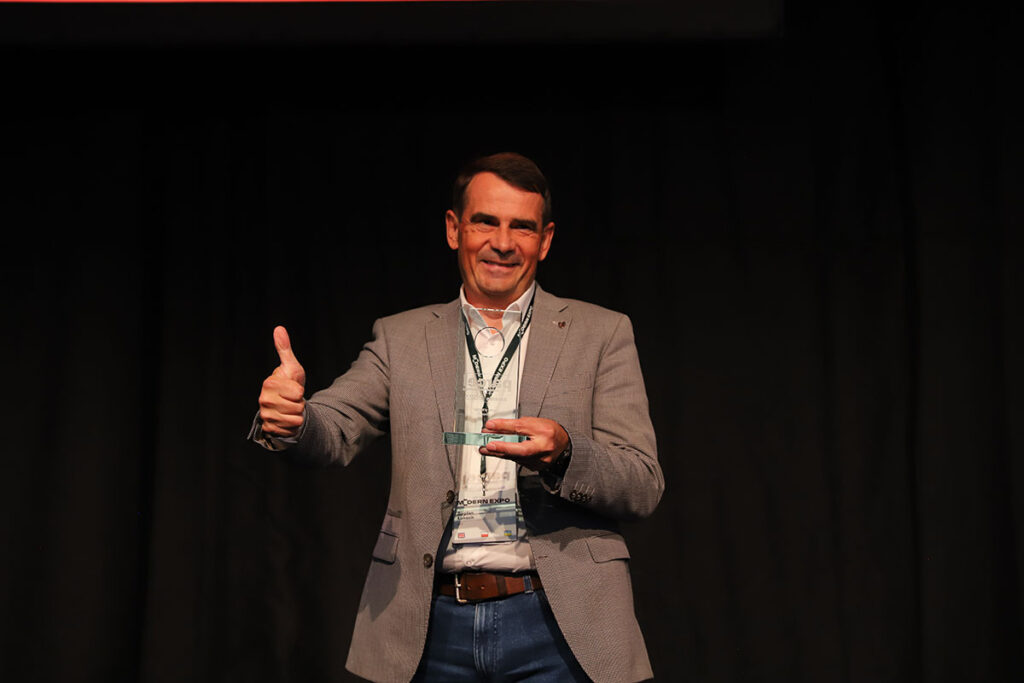 Already deployed in 12 countries, Modern Expo launched its Loko App software to simplify and increase the efficiency of locker operations.
Award winner Bogdan Łukasik, co-founder of Modern Expo, wanted to praise his fellow co-founder, Petro Pylypiuk, who was unable to attend: "He's working right now to collect new orders for next year and so maybe we can renew this award next year as well," he said. "I'm very, very proud of all our 2,000 employees, supporting me and our clients every day. And I would like to say thank you to our customers, who challenge us every day to make new developments and put new, sometimes crazy ideas forward for us to implement. I would like to invite everyone to our booth to see our solutions, and I hope a lot of you will be surprised."
In one case, a Romanian courier service uses the Loko App API to manage a network of 2,000 parcel lockers. For click and collect, the intuitive interface meets the requirements of brick and mortar stores and customers, resulting in a customer satisfaction rate of 95%. The Loko App also helps manage the storage capacity of lockers, with analytics that enable it to change the size of the locker areas and redistribute the space. Modern Expo also recently launched Conveniq – a modern impulse zone for parcel lockers. Conveniq is a unique AI-driven solution that combines the advantages of the post office and a convenience store on 2m2 of space. Customers can now receive parcels and enjoy their favorite snacks in one place.
Also shortlisted:
Bloq.it – Deployment of a smart locker network for Vinted Go
Vanderlande – New projects and installations in North America, Europe and Asia
Anansi – Goods-in-transit insurance
Scurri – Scurri Track Plus post-purchase experience software
FarEye – Grow self-serve merchant portal
Packaging Innovation of the Year: Nova Poshta – Packaging service at parcel lockers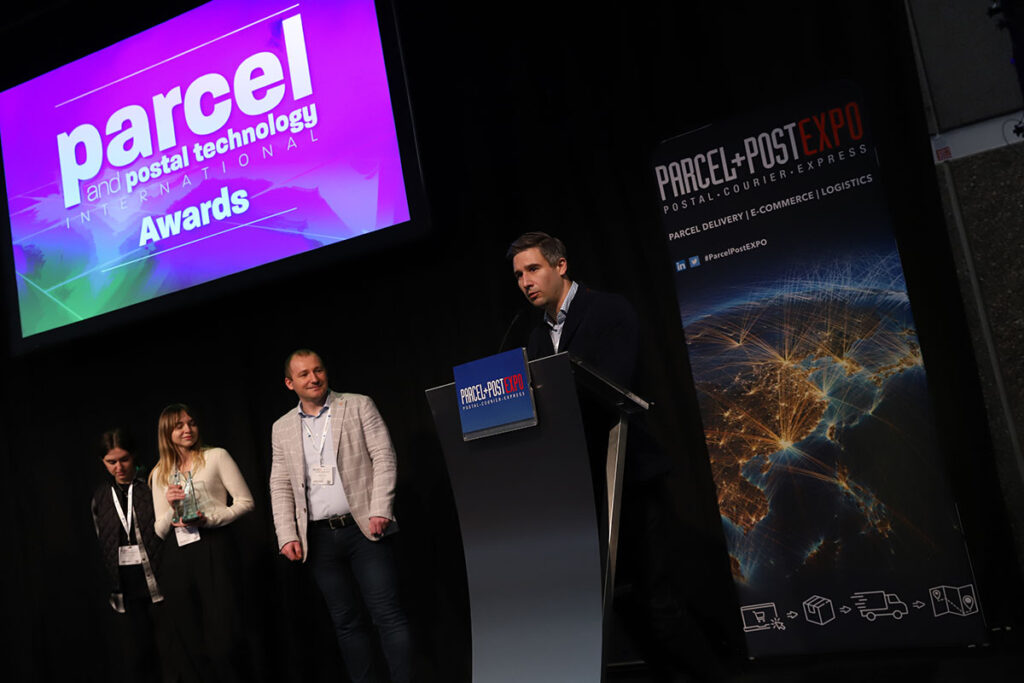 Ukrainian delivery firm Nova Poshta launched a packaging service that enables customers to send unpackaged parcels from local parcel lockers for UAH15 (US$0.41), regardless of the size of the parcel.
Customers select the service in the Nova Poshta app before depositing the unpacked shipment into the post machine and closing the cell. The dispatcher automatically receives a notification about the new parcel and sends a request to the courier to pick it up.
Through the Nova Poshta staff app, the courier can see which cells have unpackaged shipments. These objects then go to the post office in a special bag, which contains packing equipment such as boxes, bags and fillers. The UAH15 (US$0.41) price includes the box or bag, as well as any additional materials such as bubble wrap, stretch wrap or paper that are necessary for fragile shipments.
Oleksii Taranenko, chief business development officer of Nova Poshta, dedicated the award to all his colleagues at home in Ukraine: "Just this weekend, two rockets were fired into our terminal and six people died and 14 people have been injured. So despite this situation with the war, we're still innovating and providing new solutions to deliver the best experience to clients. So thank you for this award, it's being dedicated to the brave people of Ukraine".
Also shortlisted:
CMC – CMC Hybrid Advance right-size packaging solution
SwipBox – Intelligent labeling to enable circular packaging
Swiss Post – Acquisition of sustainable packaging company Kickbag
Sparck Technologies – CVP Everest support for ultra-slim boxes
Macfarlane Packaging – Rapid box assembly system
Business Diversification of the Year: Qatar Post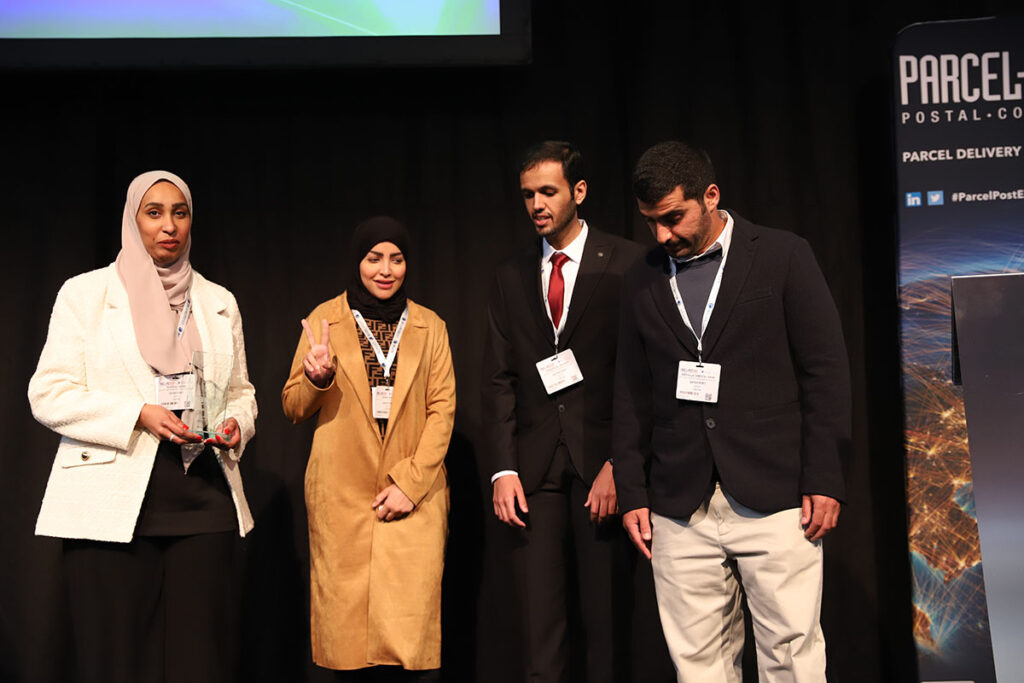 Qatar Post played a pivotal role in FIFA World Cup Qatar 2022, taking the lead in a highly coordinated Lost and Found project in collaboration with the Q22 team. The post developed a specialized application to efficiently capture and register all lost and found items, with around 4,000 items registered from eight stadiums.
The comprehensive tracking service allowed fans to easily inquire about their lost items while enabling Qatar Post staff to efficiently facilitate their return. Items could be collected from a dedicated counter facility at Qatar Post's main General Post Office (GPO) building, five minutes' walking distance from the fan village. A dedicated call center operated seven days a week during the competition and handled 2,235 lost and found calls over two months.
To ensure that fans who had left Qatar after attending matches could still reclaim their lost items, Qatar Post offered a delivery service within Qatar and overseas. Lost passports, national ID cards and other essential documents were sent to the respective embassies based in Doha.
Also shortlisted:
Kazpost – Diversification of the product line
Geomain Inc. – Universal digital ID
Modern Expo – Loko App parcel locker software
Tiramizoo – Diverse SaaS platform for the last mile
Cainiao Group – Regional e-hubs for global connectivity
Last-Mile Delivery Innovation of the Year: Quadient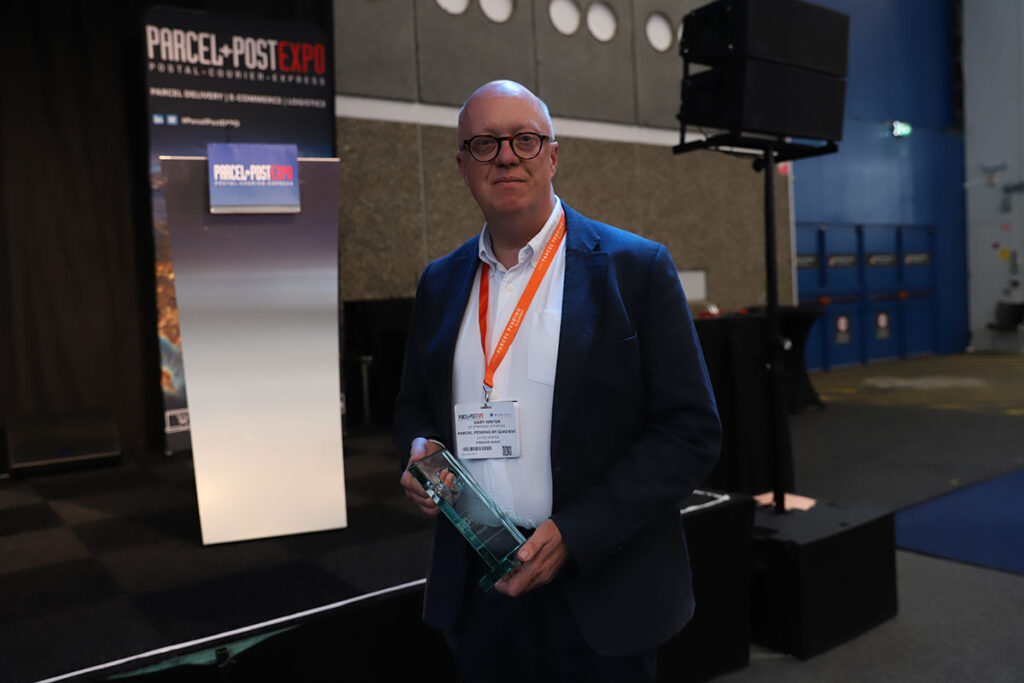 Quadient launched its fully integrated Drop Box Locker solution that provides a convenient way for retailers to accept drop-offs, pickups and returns and provides an optional printer for shipping labels.
The drop box shares the same design as the standard Parcel Pending by Quadient parcel locker and comes with a collection box that accepts up to 20 parcels and is equipped with a smart sensor located inside the collection box that detects when it is full. Fully integrated with Quadient's centralized SaaS-based management platform, the locker delivers instant notifications for easy pickups and returns.
Also shortlisted:
Cleveron – Cleveron 354 with 24/7 online capabilities
VaultGroup – PopVault LED electronic smart locker
Scurri Track Plus – post-purchase experience software
Arka – AK 500 EKO solar-powered autonomous battery locker
Mily Technologies – Out-of-home delivery analytics
Sorting and Fulfillment Technology of the Year: PostNord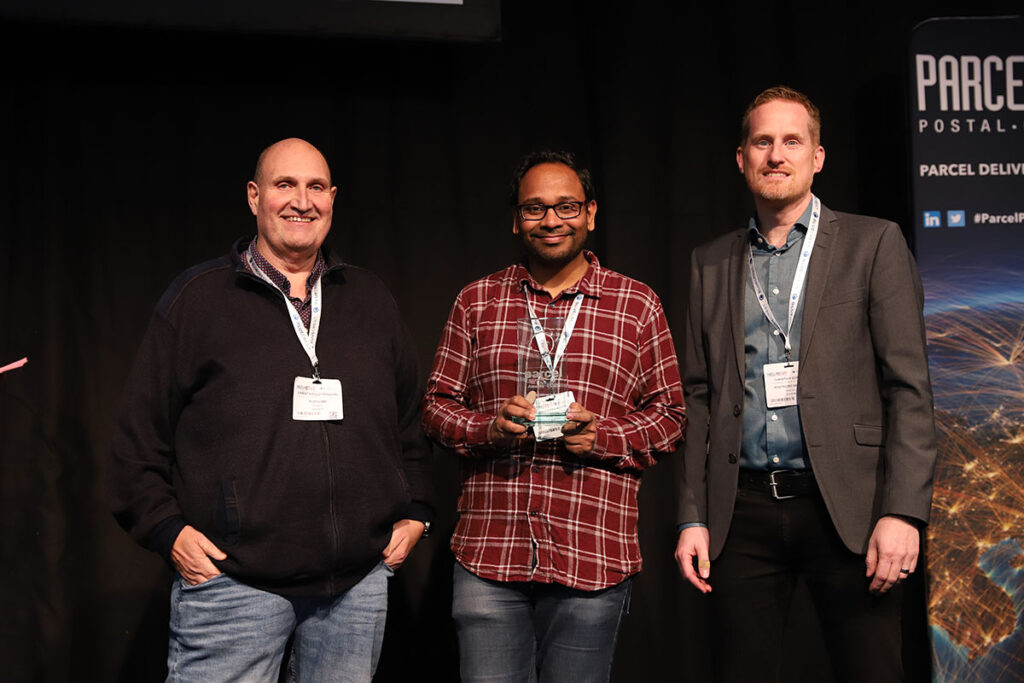 PostNord's Digital Twin sorting concept is a virtual representation of an entire sorting center that also replicates operational processes, actors and systems. The business case is based on an operational efficiency gain of 6-8%.
For the first phase of the digital twin project, the solution acts as a decision support system by simulating different scenarios, processes, actors and IT sorting systems. By utilizing the digital twin, sorting centers can increase sorter capacity, remove bottlenecks and improve the collection and distribution sort plan. The solution has been implemented in the newest parcel terminals in Sweden with a planned rollout to other parcel terminals across the country.
The current phase of the digital twin project has been based on historical production data coupled with machine data, work planning tools and forecasts. The next phase will incorporate computer vision data, sensors and people and asset flows.
Also shortlisted:
Vanderlande – Auto Induct, robotic singulation solution
Cainiao Group – RFID tags and IATA One Record platform
Wayzim – Algorithm based on a deep learning network and RGB-D camera positioning
Sick – Pallet classification system
Transport Innovation of the Year: Clevon – launch of Europe's first autonomous delivery robots on public roads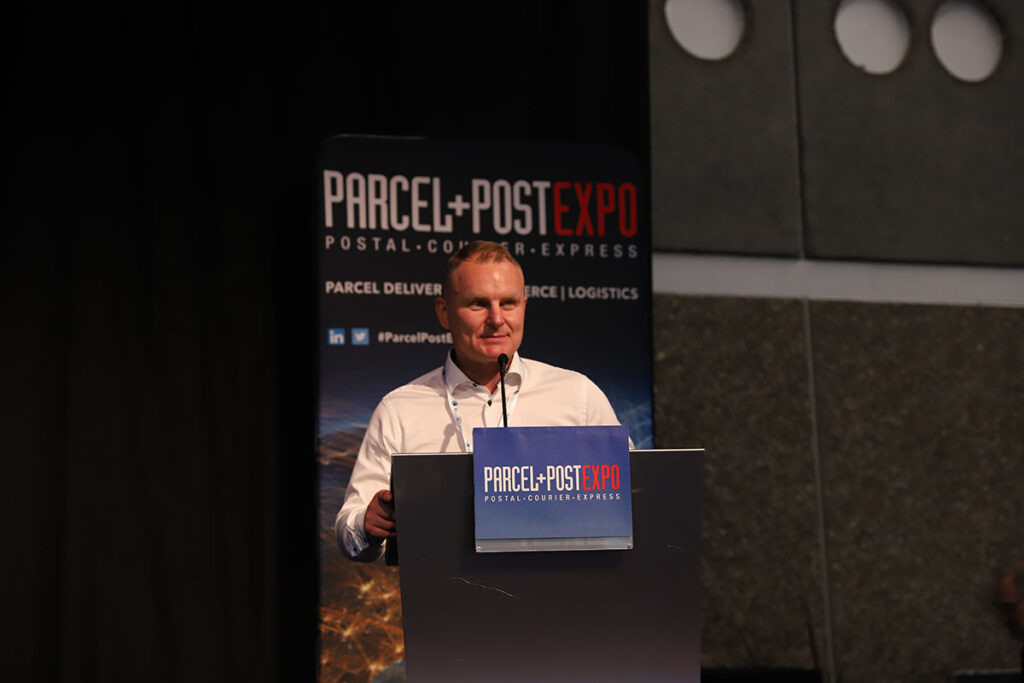 Autonomous delivery specialist Clevon partnered with one of Lithuania's leading grocery chains, Iki, to bring Europe's first fleet of autonomous robot carriers (ARCs) onto public roads.
Three driverless carriers provided daily commercial delivery services in the Vilnius city center area, delivering directly to customers' homes. The ARCs have secure compartments of different sizes, suitable for smaller and larger online grocery orders. The fleet of robots can deliver seven customer orders in a single run.
To ensure maximum safety, the autonomous carriers travel at a maximum speed of 25km/h and can safely navigate the streets thanks to 360° cameras and special sensors. The carriers are remotely supervised by teleoperators who monitor the driving in real time.
Also shortlisted:
SEW-Eurodrive – Truck Tower, with more parking spaces for trucks and trailers
CEVA Logistics and Toyota Motor Europe – hydrogen truck trial
Royal Mail – launch of fully electric drone deliveries in Orkney
DPD – deployment of mobile EV charging solution with OnCharge Energy
VUF Bikes – VUF XXL Valeo Transporter E-Trike for large parcels
Environmental Achievement of the Year: Kyburz Switzerland – New battery made partly from recycled material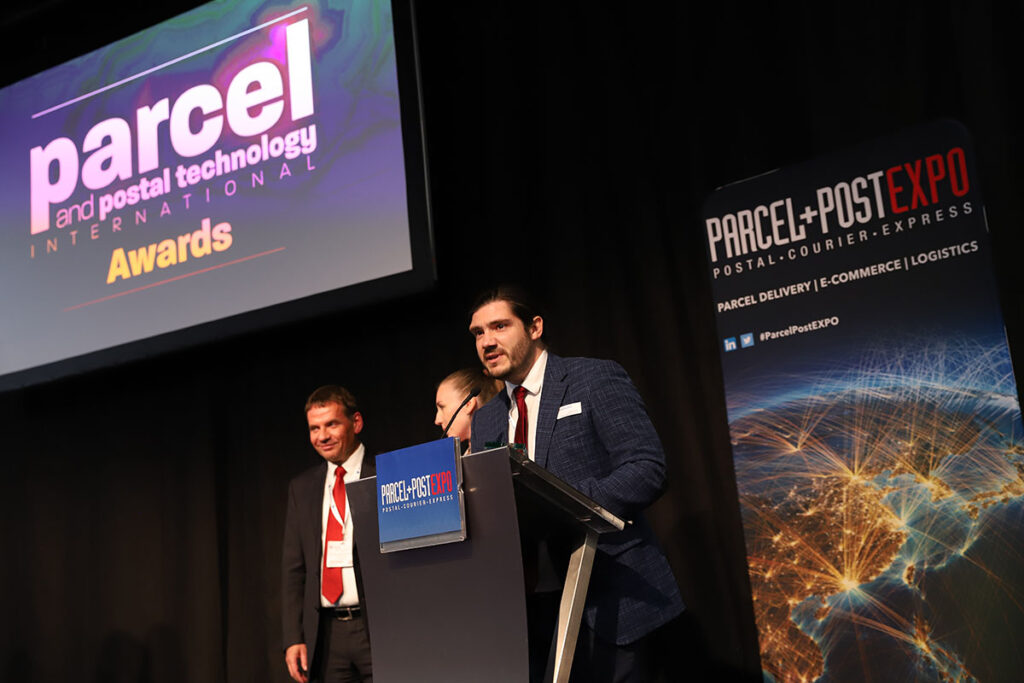 Kyburz Switzerland is working intensively on battery recycling solutions and, in collaboration with Swiss Federal Laboratories for Materials Science and Technology (Empa), successfully produced a battery cell from recycled materials. Old batteries from former Swiss postal vehicles were disassembled at Kyburz and the materials were reprocessed, avoiding chemical and energy-intensive processes.
The valuable components were fed into the manufacturing process for new batteries. In this way, battery cells could be produced with 20% recycled material, reducing the need for new material to 80%.
Kyburz Switzerland is now working with partners along the value chain to further increase the proportion of recycled material and industrialize the solution.
Also shortlisted:
PostNord – Green corridors initiative
DHL Express UK & Ireland – Sustainable aviation fuel deals
bpost – Sustainable sending service
Team Global Express (TGE) – Project Cobra, Australia's largest trial of electric trucks
Sick – Monitoring Box FTMg Premium, compressed air monitoring (warehouse)
The 2023 judging panel
Abdulla Mohammed Al Ashram, group CEO, Emirates Post Group
Bernhard Bukovc, chairman, Postal Innovation Platform
Cyril McGrane, director of international trade, An Post
Gustavo Damy, Innovation and Partnership Development, UPU
Dan Symonds, editor, Parcel and Postal Technology International
Derek Osborn, business coach, Whatnext4U
Elena Fernandez-Rodríguez, deputy director, international affairs and sustainability, Correos Spain
Elmar Toime, former postal CEO and director, E Toime Consulting
Henning Gaudszuhn, vice president – customer experience, DHL eCommerce
Holger Winklbauer, CEO, IPC
Ian Kerr, founder, Postal Hub Podcast
Joseph Gafa, CEO, MaltaPost
Krunoslav Loina, head of business development, Hrvatska pošta
Marek Różycki, managing partner, Last Mile Experts
Michel Defloor, vice president marketing, bpost
Patrick Keefe, executive director strategy and planning, Qatar Post
Paul Donohoe, manager, digital economy and trade program, UPU
Sven Kukemelk, VP international business, Omniva
Commenting on this year's entries, Krunoslav Loina, head of business development, Hrvatska pošta, said, "These innovations collectively drive a paradigm shift in how we approach our business. They underscore our dedication to efficiency, environmental responsibility, and elevating the quality of service we offer to our customers."