In a bid to simplify the parcel returns process for consumers, DPD Germany introduced a digital 'Return' button for its smartphone app in March 2017. When selected, the function creates a digital 2D label on the phone's screen, which can then be scanned at the chosen DPD parcel shop, eliminating the need to print and fasten a physical label.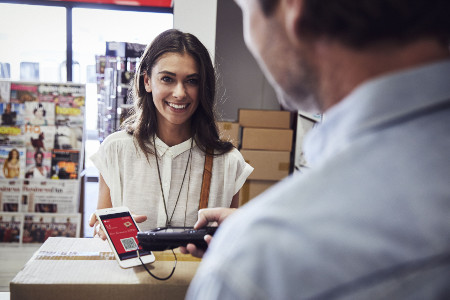 "DPD is convinced that the delivery of parcels should link up seamlessly with online shopping," says Michael Knaupe, director customer experience and communications at DPD Germany. "The shopping experience does not necessarily end once the delivery has been made. If the customer isn't satisfied with the shipment, the goods are sent back. With the Return button, DPD has implemented an innovative and efficient idea for returning customer shipments."
As well as the DPD app, the Return button can be found on paketnavigator.de, the carrier's online platform for managing parcels. Immediately after the parcel has been delivered, the option of returning the goods is displayed in the app or on the website, providing the online shop has chosen DPD's solution. A return order can then be created with the click of a mouse or the tap of a finger. A mobile return parcel label is then created as a 2D code, which can be integrated as part of Apple Wallet (iOS) or WalletPasses (Android). The parcel can then be deposited at any of DPD's 6,000 Pickup parcel shops throughout Germany.
Alongside the new return function, the DPD app provides a live-tracking display and detailed online map, together with a delivery forecast that is accurate to the hour. Every delivery can be individually redirected according to the customer's preferences and orders for private parcel shipments can be placed and paid for via the app. The addition of the digital Return button means that the entire shopping process, from the initial order through to the return of goods, can now be managed digitally. "The DPD app is constantly being developed, with the most recent update in July 2017 raising it to an entirely new level," adds Knaupe. "Among the new features is the option for consignees to specify their favorite parcel shop as a permanent delivery preference, in addition to providing DPD with general authorization to deposit their parcels in a specific location or in their parcel box."
To ensure the app is as user friendly as possible, DPD leverages user feedback from social media to optimize its functionalities and pick up on new ideas. As such, Knaupe expects a landscape version of the DPD app to be available for tablet computers in the near future. "Uncomplicated returns management is an essential component of e-commerce," he adds. "In this context, 'uncomplicated' means convenient for the consumer, but also saving on resources for the retailer. Both of these requirements are served by our Return button. DPD customers now perceive the company as a pioneering, digital innovation leader in terms of return shipping."
---
Delivery Innovation of the Year Shortlist:
Paztir security and management for cyclelogistics
Liloe Labs' Jeffrie insulated parcel box
Cleveron's CleverFlex
Florence Corp's ExpressLocker returns processing