While it is true that Black Friday and Cyber Monday (BFCM) originated in the USA, it has gained worldwide recognition as one of the biggest shopping events in the retail calendar. With that in mind, leading e-commerce logistics community Parcel Monitor has revealed new insights from the most recent peak shopping season in Europe and the USA. The findings highlight how the purchasing behavior of customers has evolved in the wake of supply chain disruptions and growing uncertainties surrounding the global pandemic.
Black Friday and Cyber Monday parcel volume slowed in 2021
One commonality between Europe and the USA is regarding their respective parcel volume growth during BFCM 2021. Based on Parcel Monitor's data, parcel volumes in the former grew by 70% compared to pre-BFCM levels last year — a significant decline from the 94% that was experienced back in 2020. Meanwhile in the USA, there was a 43% jump in parcel volume, falling short of 2020's figure at 71%. This trend did not come as a surprise for many industry experts including Nate Skiver, founder of LPF Spend Management. Nate believes that our observations "make sense," given the easing of lockdown measures and restrictions which greatly facilitated the return of physical return. This was why "total retail sales and e-commerce were more spread out over Q4 2021, thus reducing the volume concentrated into the BFCM period," he said.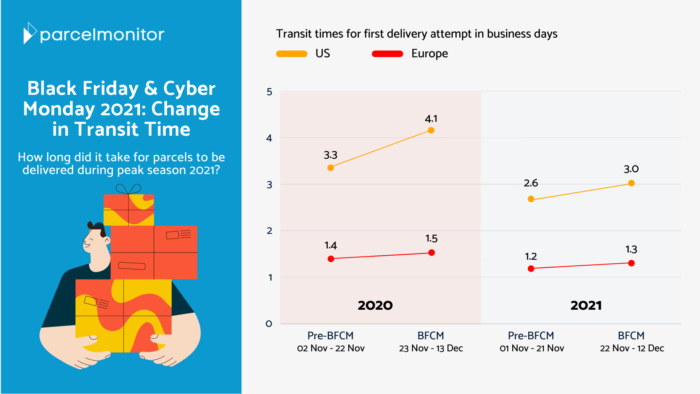 Transit time improved in both regions
In the world of logistics and supply chain operations, 'transit time' can be understood as the amount of time (hours/days) taken for a shipment to arrive at its final destination. According to Parcel Monitor, both regions showed a similar pattern in terms of changes in parcel transit times. As illustrated in the image above, there was a year-on-year improvement from 2020 to 2021 with only a slight impediment during the BFCM period in both Europe and the USA.
Upon further analysis, Parcel Monitor also realized how the US carriers are making a better recovery in handling parcel volume surges than their EU counterparts. To be more specific, delivery time delay went from 23% during peak season 2020 to 13% last year in the USA; Europe, on the other hand, experienced an increase in the delivery time delay in peak season 2021, rising from from 9% in 2020 to 10% in 2021.
Click on the following links to read the full articles on peak season in the US and peak season in Europe.