With the holiday shopping season fast approaching, retailers are bracing for the logistical and customer service challenges that accompany peak season volumes. This year, though retailers face added complexity as they continue to struggle with inventory issues, staff shortages, and ongoing supply chain disruptions – not to mention rising fuel prices. At the same time, customer expectations for fast, convenient, on-time delivery and real-time delivery communication continue to grow. Throw into the mix an increasing focus among consumers on home delivery sustainability, and you have a maelstrom of factors that retailers have to contend with.
Delivery performance faltering
In the face of peak season order volumes, last-mile delivery has become a trigger point for defining the customer experience. Unfortunately, as consumers head into the holiday shopping season, many are frustrated and taking action against poor performers.
A recent study of 8,000 European and North American consumers found that nearly three-quarters (73%) of consumers experienced delivery problems in the October-December 2021 holiday shopping period. The top three issues (see Figure 1) were related to timeliness: deliveries were late (26%); deliveries didn't arrive when promised (22%); and time windows for deliveries were too long and inconvenient (22%). Plus, a disgruntled 16% didn't receive their delivery.
This poor delivery performance can be catastrophic for retailers during peak season, especially with many online vendors relying on high sales volumes during the holidays to buoy revenues. Nearly one-quarter (23%) of the study respondents refused to order from poorly performing retailers again; nearly a quarter lost trust in both the delivery company (24%) and the retailer (21%). Additionally, 17% of consumers indicated they advised friends and family to avoid the retailer. E-commerce vendors that accept mediocre delivery quality will likely experience hits to their holiday sales tallies as consumers turn to competitors that do find ways to meet consumers' expectations.
Keeping pace with peak season demands
Meeting the delivery performance expectations of holiday shoppers begins well before the product is loaded onto the truck — with visibility into the warehouse. From an inventory management (and customer trust) perspective, retailers must ensure the products presented online accurately reflect available inventory. Furthermore, consumers should be able to choose from various delivery options at the point of sale (POS).
On the home delivery front, while delivery speed remains – for many consumers – a factor in purchase decisions, notably, consumers place more value on retailers keeping their delivery promise. To meet delivery expectations and keep customers happy (preventing failed deliveries and returning for post-holiday purchases), e-commerce retailers must find ways to boost last-mile efficiency, productivity and reliability.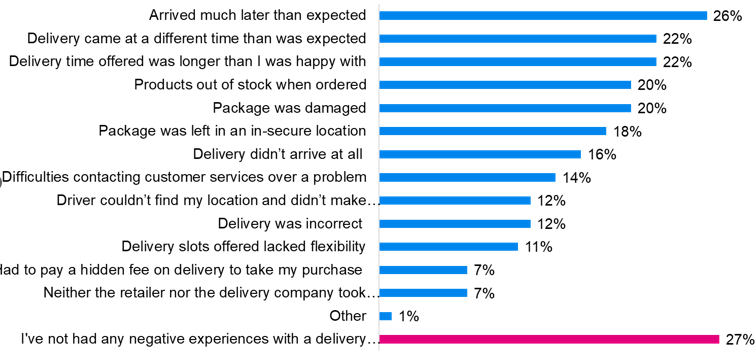 Increased value on sustainable home delivery
If all these factors weren't challenging enough, further research around home delivery sustainability has revealed its increasing importance to a significant percentage of consumers. Indeed, only 38% of over 8,000 consumers across nine countries in Europe and North America thought that most retailers were doing a good job of sustainable home delivery.
Furthermore, 60% of consumers today have environmental importance expectations for their home deliveries – from combining orders, accepting longer lead times for delivery, to having the retailer recommend the most friendly delivery option. And, if we look five years ahead, there is also a growing trend from consumers that the use of eco-friendly vehicles and a retailer's ability to show the home delivery carbon footprint will play a factor in their purchasing choices.
If a proportion of consumers are willing to compromise on convenience to ensure greater retailer sustainability, then the imperative to get efficiency and reliability right holds even greater emphasis, with a focus on making every mile as green as possible.
Sustainable home delivery as competitive differentiator
While critical to an optimized customer experience, final-mile delivery is a complex part of the fulfillment process – and is only becoming increasingly more so.
By implementing technology that creates efficiencies across the delivery lifecycle – from dynamic delivery appointment scheduling, delivery route planning, and continuous route optimization to GPS-enabled real-time mobile tracking, mobile proof-of-delivery, and delivery status notifications – retailers can give consumers more delivery choices, improve delivery reliability, keep customers informed of delivery status, and, crucially, provide different consumers with parameters for home delivery that suit their specific priorities.
Indeed, gearing up with the right technology tools can help e-commerce retailers keep their delivery promise, whatever that may be – a critical factor in building customer loyalty and driving repeat business – by ensuring customers get the products they want, delivered to their door, at the expected time.
Moreover, these tools can also lay the foundation for agile and dynamic home delivery options that meet consumers' growing needs for both convenience and sustainability.