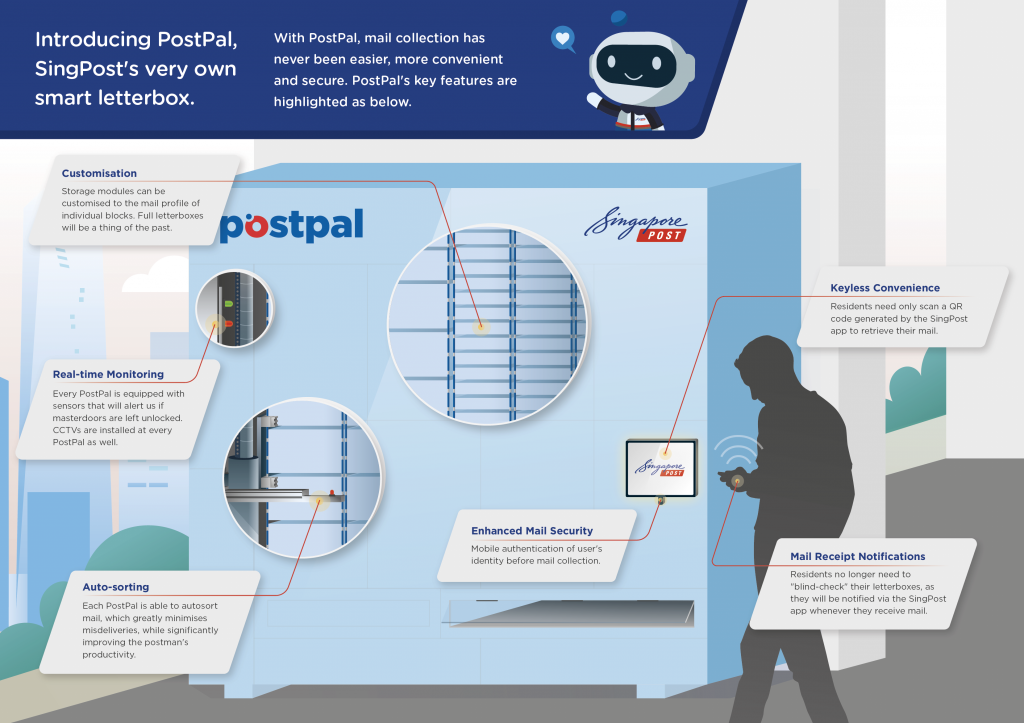 Singapore Post (SingPost) has launched a one-year public trial of its PostPal next-generation smart letterboxes as part of its Future of Post vision.
Residents of block 202 Clementi Avenue 6 will be the first to experience the convenience, security and accessibility offered by PostPal from December 18, 2020, with those in block 205 joining them in the following weeks. Located at the void decks of both blocks, PostPal is an upgrade from the traditional letterboxes in terms of functionality as well as aesthetics.
The letterboxes include customizable storage modules that can be easily adjusted to the mail profile of individual residential blocks – for example, smaller modules can be replaced with larger ones that can hold larger postal packages if the block sees consistently high e-commerce volumes, or during the year-end online sales peak season.
Residents will receive notifications of the exact number of mail items in their PostPal letterbox via the SingPost app and can retrieve their post via convenient, keyless entry using a QR code verification process. They can also use the SingPost app to authorize trusted individuals to collect mail on their behalf.
Each PostPal letterbox is equipped with an auto-sorting machine capable of accurately arranging and storing mail for individual residences. This minimizes mis-deliveries due to human error while relieving the postman's daily burden.
"The PostPal trial has the potential to fundamentally transform and refresh the HDB [Housing Development Board] letterbox infrastructure from a simple, letter-oriented lock-and-key structure to a cutting-edge digital system with capabilities beyond mail delivery, while significantly alleviating labor constraints," said Vincent Phang, CEO of Postal Services and Singapore at SingPost. "Through its myriad functions, PostPal is SingPost's first step into our Future of Post vision, which aims to revolutionize not just the logistics sector, but also retail and even community services as well. SingPost would like to thank all involved parties for making this possible."
The proprietary automation solution is co-developed by SingPost and PBA Group (PBA Robotics), a regional robotics and automation leader headquartered in Singapore. Pisces Technologies, a homegrown SME specializing in systems automation and a subsidiary of PBA Robotics, has been working closely with SingPost to rigorously develop and build the latest public trial prototype of PostPal.
"PBA Robotics shares a common goal with SingPost – which is to realize the transformative potential of smart letterboxes to improve lives in urban Singapore, making robotics tech accessible to the masses," said Derrick Yap, CEO of PBA Robotics. "We are proud to bring our robotics capabilities to the table and jointly develop this revolutionary solution with SingPost. We believe that this solution is a game-changer."
SingPost aims to progressively expand the PostPal public trial to more precincts over the year-long trial period, subject to the performance of the units in Clementi as well as IMDA (Infocomm Media Development Authority) approval. Data and feedback gathered during the trial period will be used to fine-tune the PostPal system and inform SingPost on the next phases of development for its Future of Post vision.