Kern, a mailing and packaging equipment company, has announced an exclusive sales and distribution deal, allowing Meridian Digital Solutions to sell Kern's range of Smart Terminal automated lockers in the UK.
Kern says its growth plan to meet increasing demand for contactless and out-of-home deliveries will see self-service specialist Meridian offer Kern's lockers to the retail, logistics, property, transportation and government sectors.
Kern's Smart Terminal range includes city, home, refrigerated, freezer and laundry lockers, installed at shopping centers, universities, railway stations and offices. According to Meridian Digital Solutions, it was looking to expand its automated locker offering in the UK market.
"The Covid-19 pandemic is accelerating the demand for a wider choice of contactless, out-of-home deliveries, in addition to the existing drive for e-commerce delivery logistics to become more efficient by using smart lockers," explained David Cox, head of UK sales at Kern. "Our partnership with Meridian Digital Solutions will help meet this demand and increase sales in a range of markets, while we also continue to sell direct. Experts in their field, Meridian bring great depth of experience to the relationship and we look forward to collaborating on exciting projects in the future."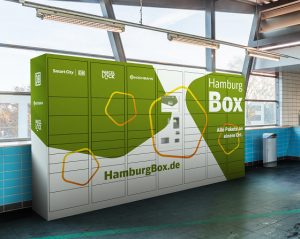 "Kern has one of the widest ranges of smart lockers in Europe, coupled with its impressive track record in logistics and automation so the company is a perfect fit for us," commented Andy Viner, managing director at Meridian Digital Solutions. "We see huge potential for Kern's Smart Terminal range as organizations expand their reach to give consumers more options in how, and when, they pick up or drop off items. 
"Kern's locker management software meets the needs of most pick-up, drop-off (PUDO) and buy online pick-up in store (BOPIS) projects off-the-shelf, which leads to rapid roll-outs. The options to integrate with customers' other systems, such as e-commerce, CRM or point-of-sale is impressive too. This powerful combination delivers great flexibility for client projects."