With the rapid rise of e-commerce, carriers have been increasingly challenged to balance delivering a good door-to-door service while reducing operational costs and maintaining capacity. Free or low-cost deliveries and returns are great for consumers but create significant cost challenges for carriers. While passing costs along to consumers via surcharges might work in the short term, this is not a tenable solution. Moreover, in the increasingly important re-commerce space, this is simply not an option due to the low value of the items themselves.
"It's unsustainable in the long-term for door-to-door delivery to carry on as it is. The carriers we speak to are all reevaluating their out-of-home strategies – how they can maintain their customer experience and convenience, but also drive down the use of delivery vehicles," says Gary Winter, vice president, strategic initiatives at Quadient.
Matters are further complicated by the fact that many countries are considering "green last mile" regulations to reinforce climate initiatives. This means carriers have an urgent need to rethink their first- and last-mile strategies. Any developments must also account for pressure from consumers who want fast, convenient deliveries or returns, and also to reduce their environmental impact, if possible. In fact, a recent consumer study revealed that this affects a significant number of people as demonstrated in the chart below: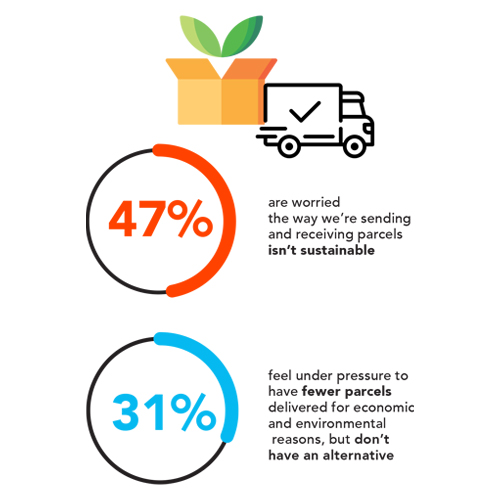 The above would seem to confirm that door-to-door delivery is no longer a sustainable delivery method and carriers must leverage out-of-home (OOH) options to strategically address operational costs, increased delivery and return volumes, and environmental impact.
In the UK market Royal Mail, DHL, UPS, FedEx, Amazon, Yodel, DPD and Evri are the key CEP actors moving the largest volume of deliveries and therefore carry the most weight in first- and last-mile delivery innovations. Their demands (and those of the customers they serve) set the stage for the logistics industry as a whole.
The challenge, today, is that few open networks exist, with InPost and Amazon operating what is effectively a closed network. Collect+ and, recently, The Post Office offers an open PUDO network but is unable to offer parcel lockers which are highly sought after by the end customer. Part of the reason for this is that D2D has worked well, with 'leave with neighbor' having unparalleled acceptance in this market. Unfortunately, while giving very good first-time delivery rates, the service still cannot ensure multiple drops per stop, nor standardized and easily accessible pickup or drop-off for couriers.
The Quadient survey also revealed that 72% of consumers are open to using smart, secure parcel lockers as an alternative to home deliveries – these numbers add up to big benefits quickly.
Indeed, the survey has shown that, if given the choice, consumers would replace 47 home deliveries a year with "on my way" (trip chaining) or "slipper distance" collections from a suitable OOH point; that's equivalent to an incredible 1.4 billion miles a year driven by carriers across the UK alone.
Open locker networks are an emerging solution for convenient, secure deliveries and returns – for carriers, businesses and consumers. Parcel Pending by Quadient, for instance, has sought to satisfy demand – the company is in the process of rolling out a 5,000-location agnostic network in the UK to complement its almost 7,000 lockers in Japan and over 1,000 in France. Other open networks include the largest locker network in the world, Hivebox in China, MyFlexBox in Austria, Smartmile in Finland and Pick in Singapore.
Efficient OOH networks offer CO2  benefits and cost savings due to better courier efficiency. For example, an InPost courier in Warsaw, Poland, is able to deliver up to 1,300 parcels in one day compared to about six times less for even the most efficient D2D carrier.
By leveraging a forward-looking open OOH network-based approach to first- and last-mile delivery, carriers can realize significant operational and environmental benefits and consumers can also reap significant advantages, including the ability to safely and securely collect and send parcels while out of home, ideally in locations that are "slipper distance" from their homes or "on their way" somewhere.
Not so long ago, I was told that "the UK is a home delivery market" in which out-of-home has little chance of success. It seems that this is about to change … and fast.