German delivery firm DB Schenker has become the first logistics provider from Europe to offer global tracking of freight shipments using a new ultra-thin tracking label by technology developer Sensos.
The disposable label can be attached to containers, pallets, or individual cartons, enabling shipment tracking for land, air and ocean transport on a single shipment base.
David Pollender, product owner business development IoT at DB Schenker, said, "Tracking technology now fits into a millimeter-thin sticker. The Sensos label is so small and lightweight that it can be used for freight of any size. In conjunction with DB Schenker's IoT solution connect2track, it offers optimal visibility and condition monitoring of consignments. This significantly improves the existing offering for our customers and makes tracking even more flexible and secure."
Aviv Castro, CEO of Sensos, said, "We took on the mission to disrupt the world of supply chain by delivering infinite end-to-end parcel-level visibility. Our solution enables data-driven execution, optimizing logistics for various use cases. We are grateful to have DB Schenker as a design partner from the early days, and for their contribution in achieving the product market fit."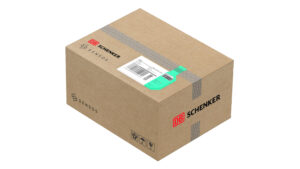 The label sends real-time data about location and temperature over the mobile network. The customer receives an alert if the package is tampered with during transport. The unobtrusive design of the label increases security for valuable consignments as it does not draw attention, and the tracking remains undetected.
The disposable label is equipped with a lithium-free battery that emits less CO2  in production than conventional batteries and achieves run times of up to six months despite its small size. Due to its low weight, the label consumes less energy during transportation, and return shipping is no longer necessary.
For more on DB Schenker, click here.