At its booth at Parcel+Post Expo 2023 in Amsterdam, SwipBox will host two partner presentations, by Skroutz Last Mile and PostNord Sverige.
Skroutz Last Mile's presentation will be given by Agamemnon Papazoglou, director of strategy at Skroutz Last Mile, on Tuesday, October 24 at 11:00am. It will focus on its experience of the key drivers when operating and rolling out a SwipBox locker network as a Greek marketplace with a last-mile operation. The talk will go in-depth about the operational and financial upsides of the network and how the Infinity locker was one of the main drivers of the speed of its network development. Papazoglou's speech will also outline the costs and benefits of owning the whole chain from online shop to deliveries.
The second presentation will be held the following day at 3:00pm by Viktor Rosenqvist, head of parcel lockers at PostNord Sverige, which operates 5,000 Infinity lockers. In his talk, Rosenqvist will explain how PostNord Sverige is focusing on using data to scale up and optimize its network of 5,000 lockers and the benefits of running a close partnership when it comes to developing shared data and AI solutions. With data-driven networks and AI tools in mind, he will talk about the Infinity network design as well as volume and utilization optimization when rolling out a nationwide network.
According to SwipBox, these talks will give the audience the chance to learn about the benefits of establishing an Infinity parcel locker network, which has proven to be a flexible and scalable solution that is easy to install and operate. They will learn about the financial benefits – not only through repeat purchases from satisfied customers but also as a result of optimized courier deliveries, low maintenance and operational costs. These factors greatly contribute to Infinity networks being an attractive last-mile solution. Last but not least, the audience will learn how AI, an increasingly important tool, can be used to optimize their business by making workflows more efficient, and how using comprehensive data enables them to make data-driven business decisions.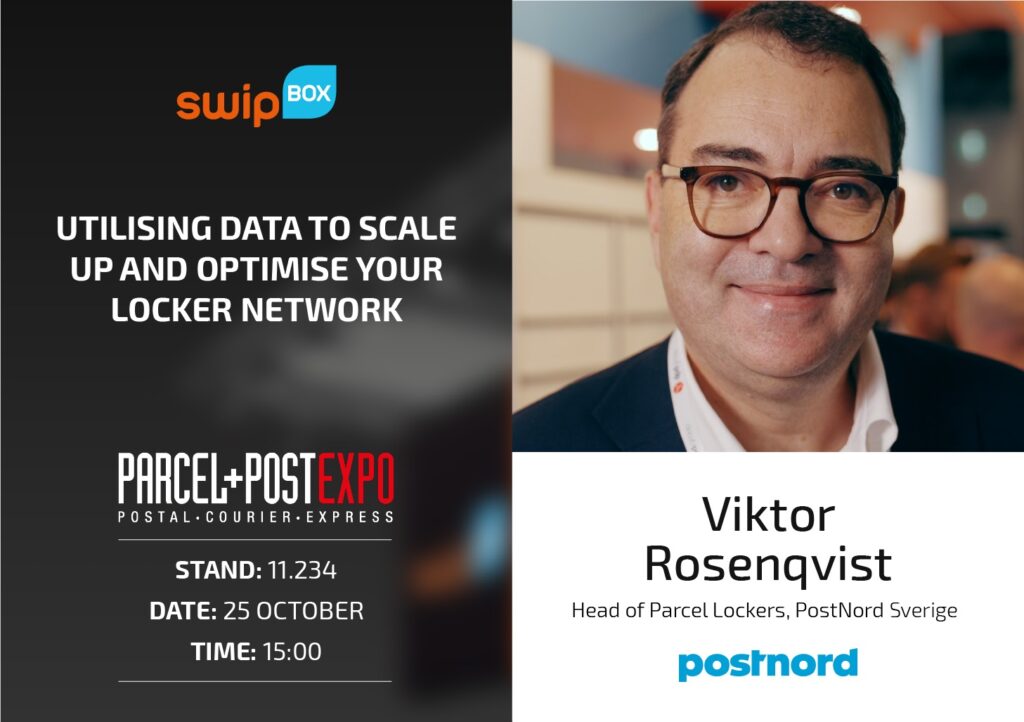 Kasper Cort, chief commercial officer (CCO) at SwipBox, said, "First and foremost, locations are the be-all and end-all of this business. And the suitability of a location is directly reflected in locker utilization – a good reason for monitoring locker data. If we look at the courier side of the businesses, getting the right locations is certainly one of the biggest challenges. The Infinity lockers can be placed everywhere because they are independent of power outlets and wi-fi coverage.
"Another factor, related to locations, is convenience. People want things to be convenient, so carriers must provide them with convenient solutions. Placing lockers near end users is one thing. Choosing easy-to-use lockers is another equally important factor. For lockers to make sense from a business perspective, they need to have a low total cost of ownership (TCO). This means low cost of operation as well as low maintenance costs, both of which our partners can have an influence on through close collaboration with us.
"For the future, we at SwipBox are looking to expand our presence in existing markets, with new and existing partners alike. We are focused on entering the American market, north and south. We will have an increased focus on the use of data and optimizing our solution, allowing our partners to easily maintain an overview of their capacity and adapt their network as and when they see a change in trends. AI will most certainly also make certain workflows more efficient, to the benefit of our partners and end users alike."
Don't miss out on the show of the year – register now for your free entry pass and visit the website for the full exhibitor list and all the latest information.