The Polish CEP market is one of the fastest-growing markets in Central and Eastern Europe. All the big players are in situ – as well as Amazon. The Last Mile Experts team has prepared a report on the Polish CEP market for you to download free
The Polish courier, express and parcel (CEP) market is growing fast, fueled largely by e-commerce players such as Allegro.
Despite many similarities with other European CEP markets, the Polish market differs remarkably for a variety of reasons.
There's very little market data available because, unlike regions such as the Baltics, the regulator doesn't offer precise information.
Poland will become increasingly important because of its location and the fact that almost all the big CEP players are in situ. Moreover, Amazon has positioned a significant number of its fulfilment centers in this territory, which may be a sign of things to come.
There's a huge opportunity for growth – for those who know and understand the market.
Last Mile Experts' Polish partner, Professor Arkadiusz Kawa, is one of the foremost authorities on this topic and has prepared an exclusive market briefing that you can download free.
A comprehensive market report will be available in 2019.
Click here to download the market briefing.
Bios: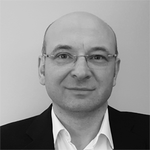 Marek Różycki is managing partner at Last Mile Experts, specializing in CEP and e-commerce last-mile advisory.