Ian Kerr, founder of the Postal Hub Podcast, and Marek Różycki, managing partner at Last Mile Experts, explore how La Poste's latest partnership with convenience store chain Casino is a win-win scenario for the companies and the consumers
Several recent announcements have confirmed that La Poste is more than just 'window shopping' with multi-format convenience chain Casino. The two French giants have been cooperating since 2015.
The retailer is expanding delivery options for its Cdiscount, Franprix and Monoprix businesses, in partnership with La Poste and its subsidiaries.
This year, the two groups will further expand their offering, with new delivery options and services in a number of cities, including home delivery of groceries in Paris and Lyon in under an hour. These deliveries can be ordered via a mobile application and will be provided in partnership with Stuart, a La Poste subsidiary.
Some deliveries will be done on foot, providing an environmentally friendly express delivery option.
The French retailer also revealed that Cdiscount, a subsidiary of Casino's e-commerce unit Cnova, and Chronopost (part of La Poste's GeoPost subsidiary) will extend parcel delivery on sundays to the 15 largest cities in France. They will also offer an express delivery service from June.
Same-day delivery (Chrono Same Day) is being extended to more major centers, and from June customers will be able to select same-day half-hour time slots.
"Our partnership is based on a simple premise: always innovate to propose new services and respond to the new expectations of our customers," said Jean-Charles Naouri, president and CEO of Groupe Casino.
But the relationship goes further than delivery. La Poste is, quite rightly, rationalizing its 'bricks and mortar' footprint in France for the benefit of itself, Casino, and most importantly the French consumer/consignee.
Last year, Christian Cléret, CEO of Poste Immo, and Jean-Pierre Lanzetti, CEO of Casino Proximité, signed a five-year partnership agreement to set up convenience stores in vacant premises next to post offices in towns with less than 12,000 inhabitants.
This is possible because in recent years La Poste group has been rolling out an extensive modernization program of its physical network, creating 'back office' mail preparation sites in city outskirts and vacating the buildings located next to its post offices, which previously housed local mail distribution centers.
Casino will be able to rent these unoccupied buildings and convert them into convenience stores. This partnership started with an initial group of about 50 sites located across France.
This is a smart deal for La Poste. Renting its vacant buildings to Casino's convenience stores reduces its real estate costs and may even generate foot traffic for the post office next door. Who knows, this might be a prelude to co-hosting post offices in Casino's retail network in the future.
For Casino, this alliance allows the retailer to expand its network to smaller towns.
There's much to like about this approach. In recent articles, we have 'complained' that postal operators could do more to leverage their network and delivery capabilities in the e-commerce space.
La Poste seems to be getting it right; combining its bricks and mortar presence with its dynamic and entrepreneurial subsidiary GeoPost – which already offers a plethora of 'to door' and 'out of home' delivery options for parcels and fresh/grocery items – La Poste is able to strengthen its already dominant presence in the French market.
La Poste's 2017 financial results seem to indicate that it is on the right track – operating profit was up 3.5% on the previous year. GeoPost, which manages the majority of the courier express and parcel business internationally and in France, as well as most of the operational initiatives with Casino, grew more than twice as much as La Poste, with operating profit up more than 10%.
Let's see where this takes Casino and La Poste, but it looks like La Poste is betting on a winner.
Bio:
Ian Kerr is the founder and host of the Postal Hub Podcast, the weekly podcast for the postal and delivery sectors.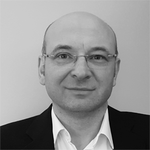 Marek Różycki is managing partner at Last Mile Experts, specializing in CEP and e-commerce last-mile advisory.