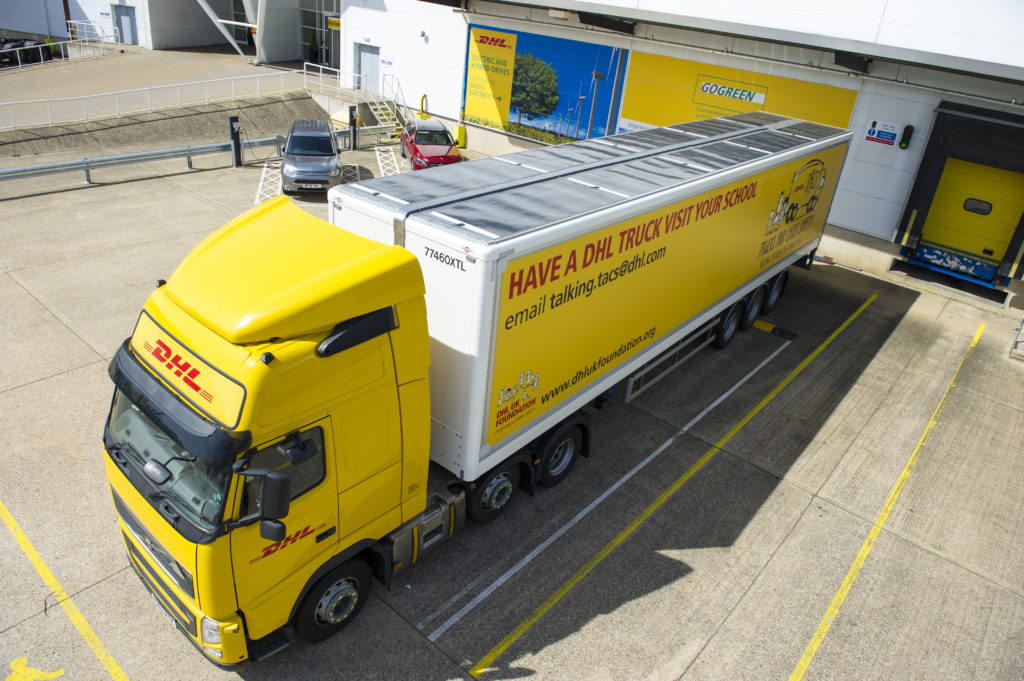 Deutsche Post  DHL Group (DHL) developed the TRAILAR solar transportation solution as part of its target to achieve zero emissions by 2050. The aim is to make the operator's fleet greener, more cost-efficient and urban-friendly. In an industry first, DHL worked in partnership with Don-Bur, a commercial vehicle manufacturer, to develop the solar solution, which consists of thin film solar mats fitted to vehicle roofs and connected to the vehicle's battery or additional onboard batteries.
"TRAILAR is a new fuel conservation technology for road transportation, based on lightweight and durable photovoltaic modules," says Aaron Thomas, co-founder of TRAILAR. "It uses advanced solar technology by applying thin film, flexible solar matting to the roofs of rigid vehicles, which are connected to the vehicle battery or to additional onboard batteries."
The matting has been developed with a thickness of 2mm to reduce its impact on aerodynamic performance. Harvested solar energy is used to power tail-lifts and all ancillary equipment, such as air-conditioning and refrigeration units. The result is that trailers become self-sufficient, therefore reducing the electrical load requirements on the truck. This can extend the range of electric vehicles or reduce the amount of fuel consumed.
The TRAILAR has been tested on trailers, DHL Cubicycles and on StreetScooter electric vehicles. "It reduces carbon emissions and lowers fuel consumption by 5%, while increasing engine efficiency and longevity," adds Denny Hulme, co-founder of TRAiLAR. "We can fit the TRAILAR solution to new vehicles or we can integrate the technology into existing fleets alongside scheduled maintenance work, so vehicles are not off the road any longer than they need to be."
Looking at why DHL decided to invest in solar transportation solutions, Thomas adds, "We have been investing in solar power innovation to find solutions that will transform the road transportation industry. Our deep knowledge and experience of the industry's requirements, along with our commitment to continuously drive innovation, enabled us to create TRAILAR. Working with our partner Don-Bur, we have developed a solution that enables our customers to operate more cleanly and efficiently."
Developed in May 2018, the TRAILAR is currently being integrated into DHL Supply Chain's fleet. "TRAILAR was first trialled successfully with DHL Supply Chain's vehicles in the UK, followed by further tests with DHL's SmarTrucking initiative in India, with a view to adding it to its future fleet of vehicles," explains Hulme. "We are planning to roll out the solution globally within the Deutsche Post DHL Group in 2019 and have started offering it to third-party truck owners and fleet operators."
Watch this video to learn more:
Also shortlisted
Australia Post
Royal Mail
UPS
Jersey Post